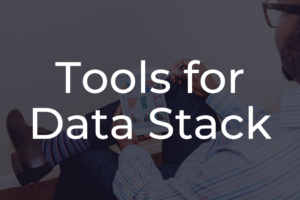 With new tools being launched every day, the data industry has become a flourishing, profitable, and promising industry. To work in such a rapidly transforming field, one must be up to date with the latest technology, and hands on hands with the tools required to work. 
With no further delay, let's jump to learn what you are for.
Let's start with Web Analytics.
Web Analytics
We first need to have a solid understanding of web usage so that we can further optimise web usage for our benefit. For this we need to collect all the necessary data, measure and analyse it and then report the trends that we come across. 
The best Web analytics tools that can make your experience healthy are:
Google Analytics

Google Tag Manager
Google is a trusted name, be it for anything. The best web analytics tools that can track, review and report user's web activity on your website.
Customer Data Platform (CDP)
Customer Data Platform is made by every web-based retailer to know more about his customers. There are many CDP platforms in the market that can provide you with efficient centralised databases to contain all the data about every interaction that the customer had with your service. You can then segment this data to make several personalised campaigns.
The current best tools available in the market for a fruitful CDP are:
Segment

mParticle

Rudderstack

Jitsu

FreshPaint

SnowPlow



Product Analytics
As a service provider, product analytics is a test for the word that you give to your customer about what your service/ product is capable of. In this competitive market, the last thing you want to do is to enter with a failed product that does not fulfil the market demand. 
A product analysis tool gives you a dashboard based visual representation of  how a user (potential buyer) interacted with the various features of your product. 
Based on that you can get customer's behaviour, feedback, product engagement and performance all in a visual, well comprehensive comparative analysis form. 
We suggest the following as the best product analytics tools:

Amplitude

Mixpanel

Fullstory

Heap

Firebase Analytics

Pendo

PostHog
Mobile Attribution
One of the latest advancements in the digital market that has revolutionized how we view our customers and collect their data: Mobile attribution. 
Mobile generated traffic adds up to more than 50% of the current traffic on the internet. And why wouldn't it be? Almost all the major applications are available on mobile phones. These include online shopping apps such as Amazon, social media such as Instagram, and much more.  Mobile phones are available at cheap rates hence it has a bigger user base. Given the strength of the mobile users, you can utilize this to your advantage. 
It becomes absolutely necessary to view, understand and react to mobile interaction to understand your customer base. 
Following are the most trusted tools for Mobile attribution in the Data industry:
Mobile Marketing
As established earlier, mobile users can be customers for us and the mobile market is the best king of marketing. As a service provider, what do you need to conquer the mobile market so that people know that you are providing a service that serves to the best of their needs?
The answer is, an elaborated efficient mobile marketing campaign that can attract potential customers and generate user traffic. 
The following are our trusted tools that can help you breakdown the mobile market:
CleverTap

MoEngage

Customer.io

OneSignal
Subscription Analysis
It is pretty obvious that we use subscription analysis for subscription businesses aka the businesses that depend on recurring customers. In short, they look for a loyal customer base that can buy their product again and again over a course of time. 
Substantially, the subscription business only profits from the user that comes to buy again. Subscription analysis can help you identify a potential loyal customer base by targeting their needs. A lot of buyers, who like a product, like to have a subscription service. This way they get a little discount on the product, while the company profits from the long term revenue generated from them. 
Without any doubt, use the following tools to add a new edge to subscription Analysis:
ChartMogul

Adapty

RevenueCat
Marketing Automation
Marketing automation is for monotonous work where you engage with your customers to show presence. It comes at a risk of making your ad campaigns repetitive and to some extent irritating. 
But if you put a little effort aka human touch into marketing automation content, then it can be a boon for you. With more personalized campaigns, and a well-managed process that can show that he can buy the product from a single place ( to show yourself as a centralized system).
Currently, these two tools can provide you customer-centric interactions between sellers and buyers in real-time:
Heatmaps
Heatmaps can be assumed as the fingerprint detector of the web. It visually represents the user activity, that is, scroll, move, and clicks done by the user on your website. Isn't that smart? You'd know what interested your customers, what got their gaze instantly. You can use that to your favor by either eliminating or working more on the content that gets ignored and putting the best for the content that gets the most attraction. 
Our trust goes for two brands: 
BI Tools
Business Intelligence tools collect and process large amounts of unstructured data that can unveil new revenue points, identify latest marketing trends, and report key performance indicators. All this can boost your decision making process and thus efficiency.
The following tools provide the visual representation of these measures in an easy format that can help you understand data.
Google Data Studio

Power BI

Tableau

Looker
ETL Tools
ETL tools are specially designed to help simplify data management strategies and improve data quality by providing a standardized approach to extracting, sharing and storage.
Following are the most trusted ETL Tools:
Data Warehouses
Data warehouses are specialized tools that centralize large amounts of data (often historical) from multiple sources. It can help in activating Business intelligence activities by performing queries and analysis on data.
Following tools can be used for a better experience in handling data warehouses:
Snowflake

Amazon Redshift

Google BigQuery
Cloud Tools
Cloud tools are an utmost necessity for any enterprise to buy cloud services and then manage, monitor and tweak them for the enterprise's benefits. These tools help free-up time and give better resource allocation by automating the provisioning, configuration, and management of your cloud infrastructure. 
Without any second thought, there are only two names when it comes to cloud management: 
Google Cloud Platform (GCP)

AWS
Conclusion:
Data industry is an ever developing industry with a wide scope and bright future. It's only natural that one wants to be ahead of time in this field. In this article, we discussed various tools required for an efficient data stack. From Web Analytics to Mobile Attribution to Data Warehouses, we have covered all the major parts. What's remaining is your experience with them. With these latest tools, your life in the data industry will be quite pleasant. But here's the best advice that we can offer: always keep exploring, like you already are.